Looking Back, Moving Forward
This is a post about the power of positive community and what happens when a few good women make a decision to (re)shape their shared landscape.
It's about Looking Back and Moving Forwards with gratitude, grace and grit.
On the 1st day of October, 2019, I had the enormous privilege of being asked to join a panel event as part of the
Donegal Women in Business 20th anniversary conference
. Taking place in the stunning Lough Eske Castle this was a celebration event of huge importance that saw over 200 women come together.
The organisers wanted to recognise the wealth of female entrepreneurs and business owners that this mighty county has, and continues to, produce. The theme was
'Looking Back, Moving Forward'
and from the very beginning journalist and presenter
Ciara Doherty
set the tone as MC for a powerful day, flavoured with intelligence, wit and honest storytelling.
It was brilliant from start to finish. Loads of great speakers who shared their stories with passion and honesty. Yummy food, brilliant venue. Super energy in the room, people were smiling and connecting and it all felt, really... vibrant, positive and powerful.
But it was after I got home, that the real impact of what had just happened dawned on me. And it's still dawning, I can't stop thinking about it.
My social platforms keep pinging with women who were in the room who want to connect with me, or say thanks, introduce me to someone else or to offer advice and support. Really thoughtful women like Maria Gallo, a Philanthropy researcher, with internationally recognised and award winning research in alumni engagement who did
this TED X Talk
and reached out today with great tips on how I could engage with my University alumni better. Or Laura Bonner from
The Muff Liquor Company
who delivered a fantastic Keynote and is someone I can't wait to meet again.
These are just two examples, I cannot list all the amazing women I met yesterday but there were many - impressive, smart, ambitious, genuine, warm, kind, amazing women in business.
One of my absolute highlights was hearing from
Rosaleen Hegarty
from
Crana Knits
who was at the very first DWIBN meeting twenty years ago. This woman looked back and shared the story of her life as a teacher in the 50's, a mother to 6, a survivor of many operations, a brave entrepreneur and a global business women. At one stage her business had over 550 knitters and worked with brands including Tommy Hilfiger and Ralph Lauren!
Her talk moved me, it inspired me and it will stay with me forever.
Since the
#LookingBackMovingForward
conference yesterday, 15 more people have signed up to be on my mailing list. I've been asked to deliver a talk / workshop at two events and my network has grown in a dramatic way. Of course, I learned from other people too and got a sense of where to go for supports I need in my business, places to go to that I didn't know existed.
This growth, connecting and 'knitting together' as visioned and fostered by Rosaleen and her business peers 20 years ago, is exactly what will sustain me as a business women moving forward into my next 20 years.
This is not small stuff, it's huge.
So, this morning, I had to travel back to the hotel with my (very kind) sister to rescue my car which had broken down after the event.
We nipped into the hotel for a coffee and bumped into none other than
Evelyn McGlynn
and
Trish McGinley
. These two women (along with their brilliant committee, their president
Deirdre McGlone
and a team of other helpers) are what made yesterday happen. Long hours of work and planning and effort behind the scenes went into the event and I am deeply grateful.
Because that DWIBN team are responsible for pulling together an event that for me, has once again, reshaped the landscape of how we can and will do business - not just in Donegal, but as the global, connected business people we are.
The community they brought together yesterday, are why my phone is pinging, my heart is full and my mind is brimming with fresh ideas.
So to my fellow panelists, all the speakers and to everyone who was involved in organising the 20th anniversary conference - Trish, Evelyn, Deirdre, Rachel, Leah, Stella, Julie, Catherine, Grace, Fiona and Maureen this post is really to say - Thank you, Thank you, Thank you!
*And anyone reading this who is not a member of the Donegal Women In Business Network, please do yourself a huge favour and sign up now!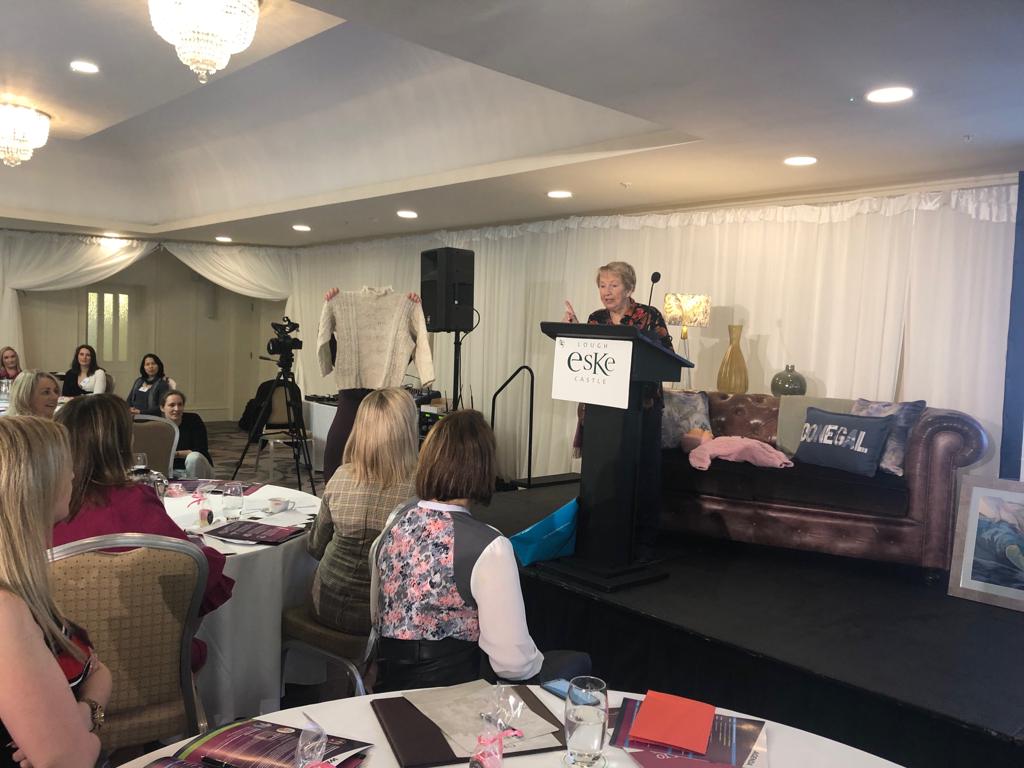 Rosaleen Hegarty, Crana Knits